ADVANTAGES FOR OUR PARTNERS
CML TRANSPORT UND LOGISTIK
We focus on long-term relationships with our transport partners. Become part of the
company part of the CM LOGISTIK network and benefit from numerous advantages.
YOUR ADVANTAGES

WITH CM TRANSPORT AND LOGISTICS
Many years of experience in container logistics

Over 150 satisfied entrepreneurs

More than 250 own container chassis

Modern equipment

Optimal technical networking including apps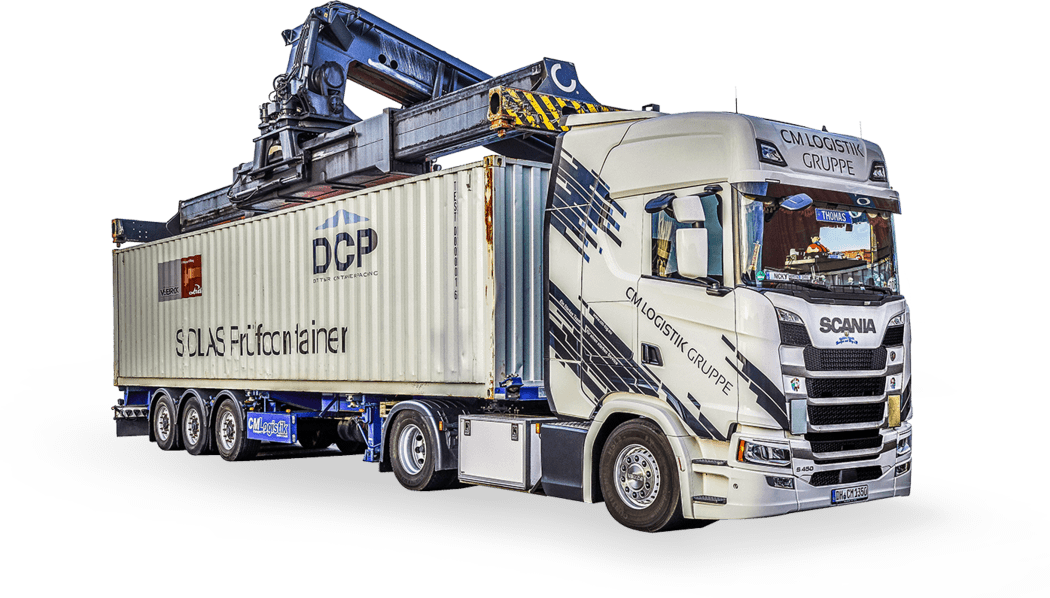 YOUR ADVANTAGES WITH CM LOGISTICS AS YOUR TRANSPORT PARTNER

Every transport company wants more contracts, more turnover and more success. But the basis for this is, among other things, a strong partner who reliably and stands by your side in thelong term and who cares about your success .
Especially in a fast-moving industry like the transport sector, where competition is also fierce, it is essential to be part of a strong team - even across company boundaries.
Because we transport the success to our partners and thus get the most out of it for everyone. We create the perfect conditions for you to maximise your profits!
1. immediate payment of the freight
We pay for your services immediately! We ensure that you remain solvent. You receive a weekly statement from us and this is paid immediately!
2. guaranteed payments through surety
Not only the punctual completion of our transport orders, but also the timely payment of your work is our top priority - we guarantee and vouch for that! You are not a stopgap for unpleasant orders, but a fully-fledged member of our team. That's why we guarantee that your successful transport contracts will run smoothly and that you will be paid quickly.
3. support with driver acquisition
In our industry, finding responsible and professional drivers is a constant challenge. We have perfected our driver acquisition and are now in the fortunate position of finding a large rush for our advertised positions. As our partner, you benefit from this knowledge so that we can support you in your own driver search and, for example, make a suitable pre-selection among the applicants.
4. module trainings
Trained drivers are the be-all and end-all for flawless and safe transports. Our large seminar room at the branch in Stuhr offers the opportunity to hold module training courses at our own location. The advantages: getting together with our drivers and the associated exchange among each other. As part of our partnership, you and your team are also welcome to take part in the training courses with exclusive discounts. We take care of the planning and administration!
5. key account conditions with tankpool
As a successful transport company with a fleet of over 200 vehicles, we benefit from tankpool's key account conditions. With over 800 locations throughout Germany, our drivers can find a place to refuel on almost every route. Of course, as our partner, you should also receive these conditions.
6. dangerous goods safety adviser
Did you know that as a partner you need a dangerous goods safety adviser if you transport ADR goods on behalf of a partner? In our industry, we are constantly confronted with the transport of dangerous goods. If you take on such assignments, we will put you in touch with our experienced dangerous goods safety advisor, who will ensure that everything runs smoothly.
7. FIS app
With our FIS app (Driver Information System), we have developed a tool to digitally manage our orders. But the app can do much more than that: with its chat function, our drivers are in uncomplicated communication with our back office at all times, can use it to settle expenses and claims, or can easily submit their holiday there. The many different tools facilitate our internal processes and minimise our telephone workload, so that our dispatchers remain available for urgent calls. As a partner, equipping your drivers with the app is also necessary, so we offer you the system at half price for the first year (with monthly billing).
YOU WANT TO WORK WITH US?