CML TRANSPORT UND LOGISTIK
COMPREHENSIVE SERVICE FROM THE CM LOGISTIK GRUPPE
As a transport and logistics company reliable container logistics to supply reliable container logistics from a single source - this was the motto under which CM Transport & Logistik started its logistics business in 2011 with 20 tractor units. The company's strong commitment quickly led to success: today, the CM Logistik Group owns over 200 tractor units and more than 250 container chassis, with just as many trucks from firmly chartered and vetted subcontractors also being dispatched.
INTERNATIONAL TRANSPORT AND LOGISTICS COMPANY: WITH THE BEST PREREQUISITES TO REACH YOUR GOAL
A transport and logistics company with its own fleet of vehicles, modern equipment, good technical networking, responsible drivers and an international team - that is CM Transport & Logistik. This is how we guarantee a smoothly functioning logistics chain - flexibly adapted to your individual wishes, because the declared aim of the CM Logistics Group is on-time delivery with complete satisfaction in all logistics areas.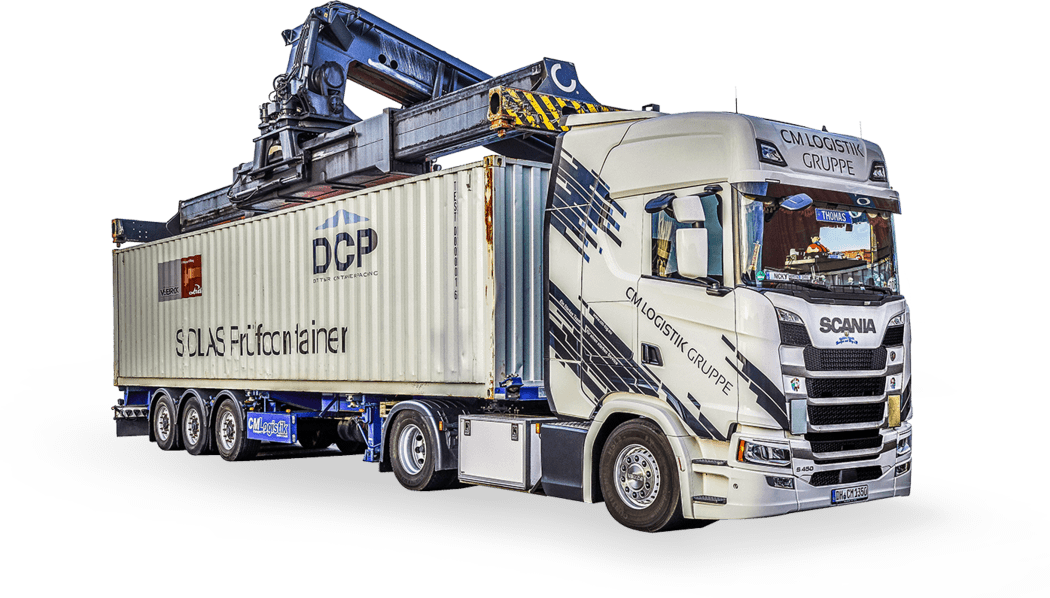 CML TRANSPORT UND LOGISTIK

YOUR ADVANTAGES WITH CM TRANSPORT & LOGISTIK

Many years of experience in container logistics

Over 200 of our own tractor units

More than 250 own container chassis

Modern equipment

Optimal technical networking including apps

Reliable driver pool

Multilingual logistics team
Our transport and logistics company reliably brings your freight to the right location. In doing so, we rely on modern technical equipment for communication with drivers, subcontractors and, of course, customers. The technical networking via GPS and driver app makes it possible to determine the exact location and status of your containers. Trust us for temperature-controlled transport as well as for hazardous goods transport throughout Europe. We also have the best options for intermodal logistics, such as the takeover and onward transport of containers from the China train, thanks to our various locations .
We stand for high performance, smooth processes, expert customer advice and sustainable business practices, because as a transport and logistics company we are aware of our responsibility for the environment. That is why we are committed to the topic of "green logistics" and create sustainable logistics processes with which we aim to reduce our CO₂ footprint in the long term.
Do you have any questions about our services? Please feel free to contact us by phone or email. We look forward to hearing from you!
IN TRANSPORT & LOGISTICS
SUCCESS THROUGH TEAMWORK